Semaine de la francophonie 2017 – Ticino
Leur regard: Sguardi incrociati di autori francofoni sul Ticino,
da Chateaubriand a Corinna Bille
Scoprite il programma delle serate del 28 marzo e del 5 aprile qui.
In anteprima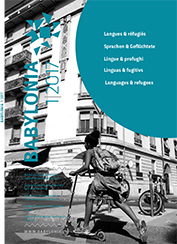 Language learning in refugees,
an account of a Swedish study
Hans-Peter Søndergaard
| Karolinska Institute
During the nineties, the Swedish parliament decided to fund research aimed at torture victims among refugees. Due to that, I had the opportunity to participate in a study (Emdad et al., 2006; Emdad & Sondergaard, 2005; Sondergaard, Ekblad, & Theorell, 2001, 2003; Sondergaard & Theorell, 2004) wherein refugees, after receiving permanent permission to stay, were followed every third month for one year to look at which factors in their daily life made an impact on their health. There were many interesting findings in the study, but among the main findings were that worsening health was more often found when subjects with Post Traumatic Stress Disorder (PTSD) reported overwhelming demands in school, repeated instances of housing difficulties, and concern over those relatives in peril or ill. This was not necessarily true when the participants had not developed PTSD.
At the time, I had been working in an outpatient clinic specialised in torture victims, and I had often heard my patients complain about memory problems and learning difficulties. A typical remark might sound like "I sit in the classroom, listening and understanding everything, but the next day it is completely gone". I had even noticed that some of these subjects made major leaps forward when their PTSD improved, whether it happened on its own or due to successful treatment.
At the beginning of the nineties, a PTSD diagnosis was slowly becoming accepted. For me it was obvious that PTSD was one of the most important factors in refugee health, but for some in the field PTSD was considered unnecessary and stigmatizing - "a new acronym that we don't need". However, as the condition PTSD was being increasingly studied, it became obvious that besides problems with high arousal, subjects with PTSD had decreased volume in the hippocampal area in the brain. At the time, the reasons were unknown. Was loss of cells due to cell death? Or might there be other explanations? For instance, was the condition reversible? Later research has shown that the decrease of hippocampal volume in PTSD is indeed reversible; improved PTSD is accompanied by increased hippocampal volume (Levy-Gigi, Szabo, Kelemen & Keri, 2013). […]
IDT 2017
XVI. Internationale Tagung der Deutschlehrerinnen und Deutschlehrer (IDT 2017)
31. Juli – 4. August 2017, Fribourg/Freiburg, Schweiz
www.idt-2017.ch
Fokus – Zielgruppenspezifische Veranstaltungen (SIGs) – Montag 31. Juli 2017
(http://www.idt-2017.ch/index.php/fachprogramm/zielgruppenspezifische-arbeitsgruppen)
Den Auftakt zum Fachprogramm der IDT 2017 bilden am Montag, den 31. Juli 2017 neu zielgruppenspezifische Veranstaltungen, die sich schwerpunktmäßig der sprach- fach- und bildungspolitischen Dimension von Deutsch als Fremd- und Zweitsprache (DaF/DaZ) widmen.
Diese Veranstaltungen sollen als Chance genutzt werden, um Fachwissenschaftlerinnen und Fachwissenschaftler, bildungs- und sprachpolitische Entscheidungsträgerinnen und Entscheidungsträger sowie ein breiteres Publikum miteinander zu folgenden Themen ins Gespräch zu bringen:
- DaZ im Kontext der Migration und Integration
- Bildungskooperation und der Förderung des Deutschen weltweit
- konzeptuelle und bildungspolitische Grundlagen, Lehrpläne und Lernziele, Lernkonzepte und Lernformen, Lehrerprofile, Lehreraus- und –weiterbildung
- Rolle der Forschung und Kooperation für die Fachentwicklung
Ziele des Austausches sind die Standortbestimmung, programmatische Entscheidungen und die Erarbeitung von Leitlinien zu deren Umsetzung.
Vom Gesamtkonzept der Tagung her schreibt sich der Montag in den Teil Deutsch lehren, Deutsch lernen: Fokus Planung und Steuerung ein. Die Erarbeitung der Inhalte, sowie von Fragen, Empfehlungen und Forderung zu den verschiedenen Themenbereichen erfolgt vor der Tagung durch Expertengruppen. Diese werden am Montag in verschiedenen parallelen Workshops den Teilnehmenden vorgestellt und mit ihnen diskutiert. Die Ergebnisse fließen in die sprachpolitische Resolution der IDT 2017 ein, die in diesem Zusammenhang als Grundlage für eine zeitgemäße Sprachenpolitik und Sprachpraxis erarbeitet wird.
Einschreibungsgebühren für ausschließlich für den Montag:
Standard CHF 280.- / Studierende und Doktorierende CHF 140.- (Zugang zu Expertenarbeitsgruppen und Podien und auch zur Eröffnung, den Angeboten der Aussteller und zum restlichen Fachprogramm Montag)
Für die gesamte Tagung: Standard CHF 540.- / Studierende und Doktorierende CHF 280.-
Ende der online Einschreibung: 15.06.2017, 18:00
Appel à contributions | Call for papers
Musique et chanson dans l'enseignement des langues

Musik und das Lied im Fremdsprachenunterricht

Appel à contributions

La musique, notamment par la pratique du chant et l'analyse de chansons, apporte une contribution originale et intéressante au développement des compétences linguistiques et culturelles. Ceci est largement reconnu. Mais pour quelles raisons en est-il ainsi? Comment intégrer de manière adéquate la musique et la chanson dans les activités concrètes de la classe, en cohérence avec les orientations didactiques actuelles ?

Ce sont ces questions que Babylonia souhaite mettre au cœur de son numéro 3/2017.

Nous nous réjouissons de recevoir une brève description de votre projet accompagnée de vos coordonnées jusqu'au 15 mars 2017 aux deux adresses suivantes : catherine.mueller1@remove-this.fhnw.ch, Jean-Francois.dePietro@remove-this.irdp.ch.

Les personnes qui auront envoyé une proposition seront informées début avril si celle-ci est retenue ou non et recevront alors toutes les instructions pour la rédaction des textes. Ceux-ci devront nous être remis le 15 juin 2017 au plus tard.

Call for papers

Die Musik – insbesondere der Gesang und die Analyse von Liedern – leistet einen originellen und interessanten Beitrag zur Förderung sprachlicher und kultureller Kompetenzen. Warum ist dem so? Wie kann man Musik und Lieder angemessen in konkrete Unterrichtssequenzen einbauen? Welche Rolle nimmt die Musik neben aktuellen didaktischen Tendenzen ein?

Auf solche Fragen will die Nummer 3-2017 von Babylonia antworten.

Passt Ihr Projekt dazu? Dann freuen wir uns auf einen Kurzbeschrieb und Ihre Kontaktdaten bis am 15. März 2017 an folgende Mailadressen: catherine.mueller1@remove-this.fhnw.ch, Jean-Francois.dePietro@remove-this.irdp.ch.

Wir werden Sie Anfang April kontaktieren und Sie über den Redaktionsentscheid wie auch über die weiteren Schritte informieren.
2016 - N3
Forschung und Entwicklung
Recherche et développement
Ricerca e sviluppo
Perscrutaziun e svilup
Responsabili di redazione per il tema:
Verantwortliche für den thematischen Teil:
Responsables de rédaction pour le thème:
Responsabels per la part tematica:
Mathias Picenoni, Malgorzata Barras & Katharina Karges
Online subscription for 50 CHF
It is possible to subscribe to Babylonia Online: with this option, you can download every new issue in electronic format. A newsletter tells the publication of each new issue. This type of subscription is especially convenient for people living outside Switzerland (no postage fees).

New subscriptions:
Please fill in the form and tick "online subscription". babylonia@remove-this.idea-ti.ch
Switch form paperback to online subscription:
Please send us an e-mail: babylonia@remove-this.idea-ti.ch
Archive
Babylonia is online available to all subscribers. All complete issues as well as single articles (since 2001) can be downloaded as PDF-files from the archives. All subscribers get a personal code. For institutions a combined subscription (Print + Online) is available.