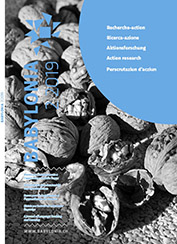 2019- N2
Aktionsforschung
Recherche-action
Ricerca azione
Action research
Perscrutaziun d'acziun
Responsabili di redazione per il tema:
Verantwortliche für den thematischen Teil:
Responsables de rédaction pour le thème:
Responsabels per la part tematica:
Marianne Jacquin, Christine Lechner & Mathias Picenoni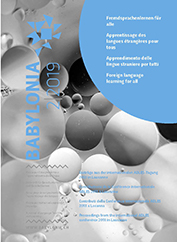 Fremdsprachenlernen für alle
Apprentissage des langues étrangères pour tous
Apprendimento delle lingue straniere per tutti
Foreign language learning for all
Beiträge aus der internationalen ADLES-Tagung 2018 in Lausanne
Contributions de la Conférence internationale ADLE 2018 à Lausanne
Contributi della Conferenza internazionale ADLES 2018 a Losanna
Proceedings from the international ADLES conference 2018 in Lausanne
Responsabili:
Claudia Berger, Lukas Bleichenbacher, Sybille Heinzmann, Rosanna Margonis-Pasinetti, Mathias Picenoni
Theme of the next issues
1/2019: Differenziazione in classe di lingua
2/2019: Aktionforschung
3/2019: Le français en Suisse
Online subscription for 30 CHF
It is possible to subscribe to Babylonia Online: with this option, you can download every new issue in electronic format. A newsletter tells the publication of each new issue. This type of subscription is especially convenient for people living outside Switzerland (no postage fees).

New subscriptions:
Please fill in the form and tick "online subscription". babylonia@remove-this.idea-ti.ch
Switch form paperback to online subscription:
Please send us an e-mail: babylonia@remove-this.idea-ti.ch
Archive
Babylonia is online available to all subscribers. All complete issues as well as single articles (since 2001) can be downloaded as PDF-files from the archives. All subscribers get a personal code. For institutions a combined subscription (Print + Online) is available.